Cinelerra GG Infinity
Cinelerra GG Infinity is a free and open source video editing software for Linux. It handles rendering, compositing, motion tracking, video editing and much more. It is a rolling release, every month, and therefore the additional name Infinity. If you want to get started right away, click here.
What features does Cinelerra have?
Here you see a small part of the extensive features. Cinelerra GG Infinity is an 8k editor, supports LV2 like the audio mastering software Calf Studio Gear and works with multiple cameras. It supports proxies and has a text editor for creating titles and texts for your videos. Here you will find a more extensive feature list.
What is Cinelerra GG Infinity?
Cinelerra GG is a free video editing software that lets you edit your videos and make them look like a movie with transitions, effects and text. You can use it to cut out unsightly parts of your video, rearrange sequences, add beautiful transitions, improve visual detail or audio quality, and add music. Render your new video project directly with YouTube presets. Cinelerra GG Infinity is designed for professionals, but it's just as good for beginners as it is for getting the most out of their videos.
Free video editing software
Cinelerra GG Infinity is a resource-saving free video editing software for Linux. It is characterized by extensive possibilities to modify video and audio media. Through the integration of the software package FFmpeg, hundreds of extensions and codecs therefore are available. It is certainly not comparable with the functionality of the most important commercial video editing software in the field of video postproduction, but it is more than sufficient for common user. It is free and open source. Together with many filmmakers, developers and supporters we pursue a continuous development, hence the additional name Infinity, for a monthly rolling release.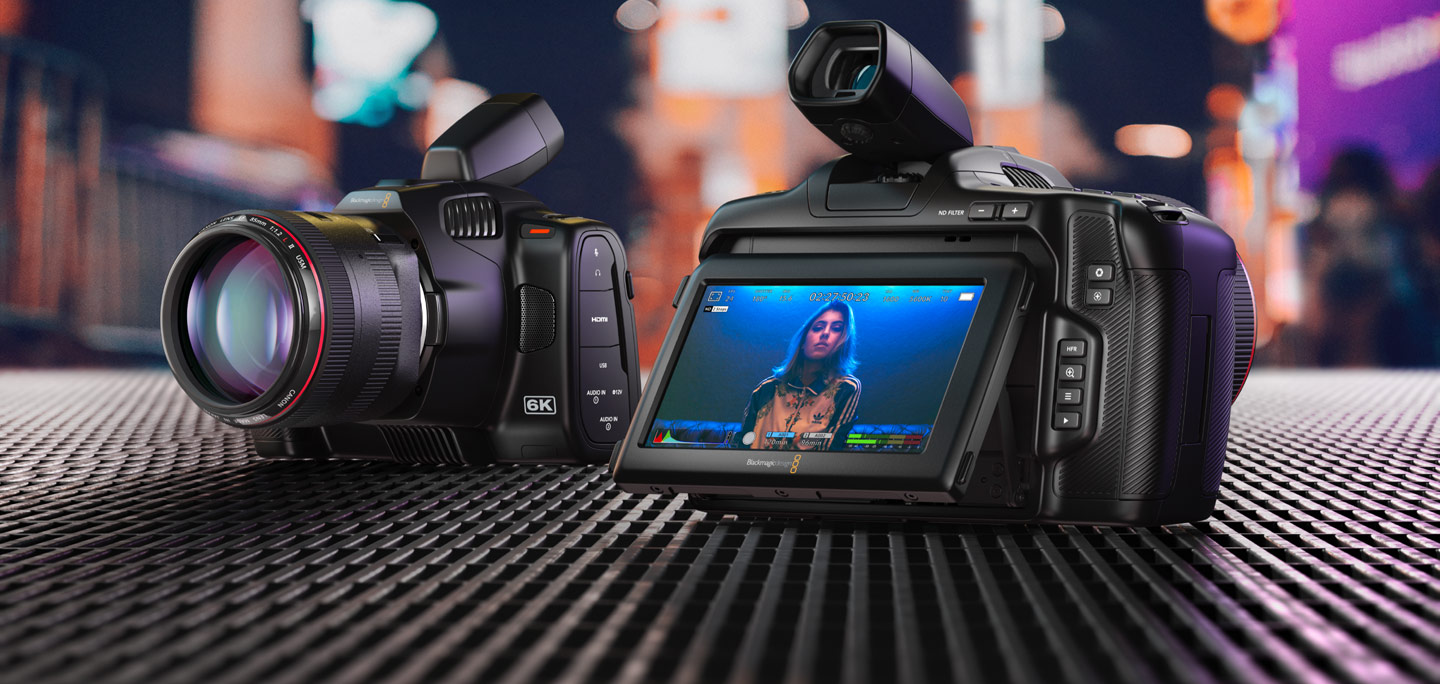 Blackmagic Pocket Cinema Camera 6K Product Introduction
Many filmmakers are familiar with Blackmagic Design.
Especially the video editing software DaVinci Resolve and in particular the Blackmagic Pocket Cinema Camera 4K caused a hype. Last year, the Blackmagic Pocket Cinema Camera 4K was introduced and became a big sales hit for Blackmagic Design, despite the somewhat awkward long name for such a small product. The camera is made for the needs of filmmakers.
Blackmagic Pocket Cinema Camera 4K Review
The main features of the camera are the large display, the ability to connect external power sources, hard drive for recording and microphones, the wide dynamic range, the high resolution of 4K at 60 FPS, RAW file format and much more. These remarkable features and the relatively low entry price for almost 1,399 Euros are the reasons for the great popularity among filmmakers and are called the small RED camera for budget filmmakers. The manufacturer RED is known for its high-quality and also expensive film production cameras.
Blackmagic Design doesn't leave it with this camera, but relies on this combination of good camera characteristics and low entry price and develops an even better camera, the Blackmagic Pocket Cinema Camera 6K.
Blackmagic Pocket Cinema Camera 6K Specifications
As the name suggests, it is possible to capture video up to a resolution of 6K – 6144 x 3456 pixels with this camera, compared to 4096 x 2160 pixels with the Pocket 4K. With the Cinema Pocket 6K, the larger Super 35 image sensor was used due to the higher resolution. As a result, the focus is no longer on Micro Four Thirds lenses, but on lenses with Canon EF mounts. The body form seems to have remained largely the same, except for the enlarged lens mount. With the purchase of the camera, the buyer automatically receives a license for the very extensive and easy to use video editing software DaVinci Resolve, which is proprietary. Friends of open source software, who don't like to use proprietary software, of course have the possibility to use Cinelerra-GG Infinity alternatively.
Conclusion
The new Blackmagic Pocket Cinema Camera 6K, like the Blackmagic Pocket Cinema Camera 4K, will certainly find a large number of new buyers. With a price of almost 2.699 Euro (EU) the Pocket 6K is clearly more expensive than the 4K, but compared to the high-end film cameras it is more affordable. For a price of almost 2,700 Euros, filmmakers get a camera that can compete with the big production cameras in many respects.
References: Picture by Blackmagic Design (linked content)
ShuttlePro v2 & ShuttleXpress
Many video editing experts prefer to work with the appropriate video editing control devices to increase workflow. In response to user demand, we have integrated the Jog Wheels ShuttlePROv2 and ShuttleXpress into Cinelerra-GG to facilitate intuitive operation. More detailed information can be found in the User Manual.
Is Cinelerra GG Infinity also available for other operating systems?
Cinelerra GG Infinity is available for GNU/Linux and FreeBSD. Due to the lack of professional video editing applications for Linux, Cinelerra was developed for Linux. Cinelerra GG therefore serves as a replacement and for this reason there is no Windows or Mac version. We support up to nine different distributions. Click here to go to the download overview page.
I need help, who can help me?
We are a free community of filmmakers and developers and help each other. If you don't know what to do and need help, our dedicated volunteers or developers will help. Here you will find a support overview of all important contact points, from forums, issue trackers to mailing lists. If you are new here, we recommend that you use the forum first. Here you will find the documentation, try to get a small overview there.